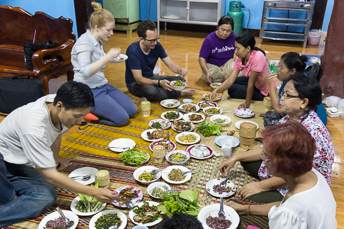 Duration
Full-Day
Start/Finish
Khon Kaen to Khon Kaen
Highlights
• Eating authentic Isan foods
• Shopping in a fresh market
• Visiting a cricket farm
• Exploring a rural village
• Helping cook your own dinner
Description
Isan food is one of the hot trends in the food world these days. It certainly has some commonalities with Thai food, but overall it's a very different cuisine, making this tour a true culinary adventure. It also offers a fascinating look at Isan culture and local life.
After shopping in the market and making a few quick stops to see how some foods are made, we go out to a rural village where we will eat a huge lunch and an even bigger dinner; all designed for your sampling pleasure. In total there will be twenty mains plus various sides, snacks, and drinks. This is the standard menu for this tour, though some changes may be necessary depending on the season and what's available in the market on the day of your tour. Surely you'll recognize some of these foods, since many of the most popular Thai foods (som tam, laap, gai yang) actually originated here, but on this tour you will get to try the unaltered versions. This is not a cooking class, though you will learn some new skills as you help prepare dinner. And we'll give you a list of the foods you ate and the ingredients used to make them, though we can't give you recipes because the cooks don't use them.
The meals are fully authentic. No changes are made for our guests, except that you can control the spiciness of some. A few dishes are vegetarian and some others can be made so without losing much authenticity by leaving the meat out or substituting mushrooms for meat.
If you are interested in food, also check out our Forest Food Tour and cooking classes.
Add-Ons
Make the most of your trip with our special add-on activities before, during, or after your tour.
We start the tour by shopping in one of Khon Kaen's largest fresh markets. We'll be buying most of the food we'll be eating for lunch and the ingredients we'll use for making dinner, and also sample several snacks. We'll then stop to see how the region's most famous chicken and fish dishes are grilled on special charcoal stoves.
We then head out of the city, stopping to visit a cricket farm, before arriving in the village. We'll serve up a batch of fried crickets before sitting down to eat. After lunch, we'll roam through the village to collect foods that can be used for dinner. Depending on the season we might dig crabs out of the mud, pick flowers and leaves, catch fish from a rice paddy, or poke ant eggs out of trees. We'll also get some fruits and veggies fresh from the garden. We'll then get fully hands-on while helping to make our enormous dinner. We'll take our time eating and talking to the locals; then after a pook kor tor kaen good luck ceremony we'll have a fairly late return to Khon Kaen.
If our itinerary doesn't fit your exact needs and desires, please let us know. With advance notice we can usually modify things.
Prices valid until March 2023.
| | | | | | | | | | |
| --- | --- | --- | --- | --- | --- | --- | --- | --- | --- |
| Group Size | 1 | 2 | 3 | 4 | 5 | 6 | 7 | 8 | 9+ |
| Price Per Person | 10,000 | 5,100 | 3,650 | 2,800 | 2,600 | 2,200 | 2,000 | 1,800 | Ask |
Price Includes
All sightseeing and activities as specified in the itinerary with English-speaking local guides, lunch and dinner, drinks, entrance fees, transportation in an air-conditioned vehicle, hotel transfers, accident insurance, taxes, and pre-departure travel consultation.
Price Does Not Include
Travel and medical insurance, personal expenses (such as souvenirs, etc.), tips/gratuities, and any additional expenses incurred due to airline schedule changes, natural disasters, political actions, or other factors beyond our control.
Booking/Cancellation Policies
• For tours longer than one day, a non-refundable deposit of 30% is required as soon as possible after making your reservation.
• The full payment is due before the tour begins. This can be done after you arrive in Thailand, as long as you have access to sufficient funds before you depart on your tour.
• International payments are best done by bank transfer, and the cheapest, fastest, and easiest way is with TransferWise. Credit/debit cards can be used through TransferWise or other online wire transfer services. For people inside Thailand, we accept payment via cash (Thai baht, US dollars, British pounds, and euros), ATM transfer, and counter deposit to Siam Commercial Bank.
• If local taxes and/or fuel prices increase significantly, we reserve the right to add comparable surcharges.