Accommodation Levels for our Tours
The following is a general description of the different accommodation levels we use on our Thailand tours. Use it as a guide to help you choose the one that's right for you. Regardless of the level, we consider atmosphere and location to be just as important as the quality of the room and when choosing hotels we always pick a good view over fancy decoration and most of our chosen hotels are in places convenient for late-night noshing and early morning strolls. We'll never stick you out along a highway on the edge of town unless there's no other option.
While we feel we've picked some very good accommodation options, we don't mind discussing alternatives with you. Some people prefer staying in the countryside rather than the city. Perhaps, you really want a swimming pool, a bathtub, or a balcony. Or maybe you'd like your final night in Thailand to be at a truly luxurious resort. Feel free to discuss your preferences with us and we will substitute a different place.
Deluxe
Your lodging for the night will usually be the best hotel or resort available. Most of these would rank as three-star properties if they were located in Europe, though a few would earn four stars. Except for the Khao Yai National Park area, there are very few places in Isan that are truly luxurious. All of our chosen properties at the Deluxe level offer in-room wi-fi and most provide a choice of Thai and Western food in the restaurant. Many, but far from all, also feature leisure facilities like swimming pools, small fitness centers, and Thai massage. In many locations around Isan there are no hotels of this standard, in which case the best available hotel will fall into the Budget level described below, though we'll get you the highest class room possible. The Pullman Raja Orchid, pictured here, is one of the best hotels in Isan, although the That Phanom Riverview Hotel is more typical of our Deluxe-level hotels. Breakfast at the hotel is included.
Budget
Plain but good sums it up most of the time. No flash, just clean and comfortable rooms, usually in a newly constructed building so there are few of the quirks prevalent in older properties. Some Budget-level hotels, however, do have attractive, stylish decoration. There are rarely extras like swimming pools or fitness equipment, but most rooms have free wi-fi and cable TV. Staff will speak, at best, very basic English. Rooms always have air-conditioning and hot-water showers. Most Budget-level hotels do not offer any food and breakfast is not included in the tour price so you'll need to go out for your morning meal, although a few hotels will serve coffee, tea, juice, toast, and fruit. On most of our tours, the price difference between Budget level and Deluxe level is not very great. The Maneerote Hotel is typical of our Budget-level hotels.
Homestay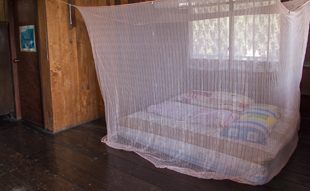 Most village homestay programs are aimed at Thai tour groups, so when foreigners come they are usually treated as honored guests. Homestay guest rooms are generally in a spare room in the family house, which is usually built of wood in the traditional style and will have a lot of character. Homestays may be a bit disorderly, but they are always clean. You'll usually sleep on a mattress on the floor under a mosquito net and you'll share the only bathroom with the family. Don't expect internet access, air-conditioning, or hot showers (though these are available in some places), but your room will for sure have a fan. There's unlikely to be any English spoken (unless you are staying at a teacher's house) though your guide will be staying with you to translate when chatting with the family.
In Thailand, the line between guesthouse and homestay is often blurred and some small family-run guesthouses, like Baan Chang Ton, have genuine homestay atmospheres. The main differences with this kind of guesthouse is that you will probably have a bed rather than just a mattress, share the bathroom with fewer people, and won't be expected to chat with the family nearly as much; although any conversation will certainly be welcomed.
Some towns don't have a suitable homestay option, so even if you choose the Homestay level, on some nights you'll be sleeping in regular hotels; usually the same one used for our Budget level. Also, most homestays are in villages well outside the city, so we sometimes have to make minor adjustments to the itinerary to accommodate this. Finally, please note that the village homestay option is generally a little more expensive than the Budget level because homestay includes breakfast and dinner at the home.
Many of our guests choose to use our Deluxe or Budget level, but add a homestay for one night of their tour.