We think we offer some of the best tours in Thailand, but there's no need for you to follow them. We typically modify our itineraries to meet our guests needs and desires. Perhaps you're interested in our Loei Loop tour, but you also want to climb Wat Phu Tok: We can add an extra day to the tour for you. Or, you would like to do our Northern Isan tour, but only have eight days available to travel in Thailand: you can fly out of Nakhon Phanom. And, if you want to stay inside Khao Yai National Park rather than in one of the resorts outside it; that's no problem.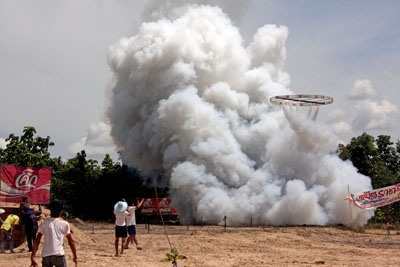 We can also do tailor-made tours that will be just right for you. Do you have a specific interest, such as music, food, Buddhist art, meditation, historic sites, music, or silk that you'd like to explore in-depth? Or maybe you're a festival fanatic. Have you always wanted join villagers celebrating Songkran, the Thai New Year, the traditional way (there's a lot more than just throwing water at each other) or see a rocket festival? Whatever your focus, we either know where to take you or we'll find an expert who does.
Though our base is Khon Kaen, and most tours start and end here, we can arrange to take care of our guests every step of the way between arrival in and departure from Thailand.
Bottom line: if you want to see it, we can take you there. If you want to do it, we can make it happen. The only right way is your way.