Our Mission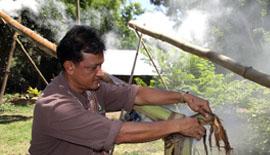 Isan Explorer was born in 2011 out of the desire to promote tourism in rarely visited Northeast Thailand, known as Isan (often spelled Isaan). This is the part of Thailand we love the most and the place we call home. We thoroughly embrace the idea of slow travel because we want our guests to not just see the area, but get to know it. To do this, we provide authentic travel experiences by showing people what many call "the real Thailand." Our trips include stops at villages, temples, and markets where you get the opportunity to meet local people and see traditional life. These simple, but unforgettable encounters are the highlights of many people's tours.
We have no desire to become a large company and we aren't looking to expand beyond this region. We only work where we are experts, and by staying small we know with certainty that our one-of-a-kind tours are the best available. There's a real satisfaction that we get from sharing our home with our guests and running our company our own way.
In some ways, Northeast Thailand is trapped in a vicious cycle: A lack of visitors results in a scarcity of travel facilities and limited use of English, which leads to a lack of visitors. Though the cycle is slowly breaking, particularly with the increasing availability of modern comfortable lodging in many places, it remains considerably more difficult to travel here than in Central, Northern, and Southern Thailand. By promoting tourism we aim to help open this wonderful region to a new generation of travelers, which will bring the benefits of tourism to the people of Isan.
Our Founders/Directors
Tim Bewer hails from Wisconsin in the USA. An explorer at heart, he first visited Thailand in 1997 and returned several times after that for work and pleasure before choosing to make Khon Kaen his home in 2007. Though he began post-university life as a legislative assistant, he quickly realized that politics was the wrong career path for him and he began writing travel articles and guidebooks, eventually joining Lonely Planet. He continues to update the Northeastern chapter of Lonely Planet's best-selling Thailand guidebook as well as covering many Africa countries. Travel is his primary passion and he has visited all of Thailand's 77 provinces and over 80 countries, including all in Southeast Asia. Tim created each itinerary himself and, whenever possible, likes to meet guests while they're in Khon Kaen, usually joining them for a part of their tour to offer his insight into Thailand and Isan. He blogs about Thailand at www.timsthailand.com.
Suttawan Intarapanich (สุทธวรรณ อินทรพาณิช), the company's owner, was born in Udon Thani and has lived her whole life in Isan. She graduated from Khon Kaen University with a degree in biotechnology, but wanted to see more of the world than just a laboratory and eventually switched gears to work as a coordinator at the Ministry of Foreign Affairs' Northeastern Regional Operation Center, organizing meetings between government officials of the Mekong River nations and writing articles about these countries for Thai readers. Her years there boosted her interest in history and culture and so she returned to KKU to study anthropology and got a master's degree in Mekong Studies – her thesis was about the conflict between traditional land use and nature conservation at Kut Ting lake in Bueng Kan province, which has been designated a Ramsar wetland. She is also an artist and sells her pictures, many of which feature scenes of Isan culture, around town. She has also published a book of short stories and blogs at www.isaninsight.com.
Our Style
We don't follow, we innovate. We are proud to be amongst the pioneers of promoting travel in Northeast Thailand. While most tour companies in Thailand focus on showing you what's famous, we aim to show you what's best. We believe that our itineraries are as interesting and enlightening as any available in the rest of the country – and the satisfaction of our guests after we have shown them seldom-visited places that we think are so wonderful proves it. Even our tours that go to the region's most famous attractions, like Phimai and Chiang Khan, will also get you deep off the beaten track to visit surprising spots that pretty much only people traveling with us ever see. We go to these places not to try to be different, but because we think they're awesome.
We send you out on your tour with a carefully crafted itinerary, but it's just a guideline – we won't mind if you break it. Following the idea of slow travel, we have designed itineraries that allow you the flexibility to spend as much time as you want at each destination and to stop along the way whenever you wish to take photos, sample local snacks, chat with locals, or check out anything that catches your eye. And before your tour begins we will discuss your interests and travel style in detail because we try to tailor things to your interests – whether it's pottery, Buddhist art, music, herbal medicine, or anything else – and will add or substitute special stops just for you.
Our Service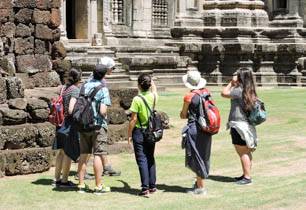 We provide personalized service that begins long before the tour does and we are happy to answer all your pre-departure questions: we know that the more comfortable you feel before your tour begins, the better your time on the tour will be. Because we are a small, locally run company we can cater to your needs and make sure that every detail is covered. We never sub-contract out any step of our trips within Thailand. By being personally involved we can ensure that your tour goes smoothly and that you will receive first-class service every step of the way whether you choose to stay in a luxury resort or a creaky wooden homestay. But, at the same time, we are also able to offer you prices that are much lower than average. We also don't pad any of our tour itineraries with "at your leisure" days at the beginning or end: if you take a six-day Isan Explorer tour, we will give you six full days of service.
Our Guides
We guide most of our tours ourselves, but sometimes use a select few tour guides who meet our high standards. All of our guides come from Isan and can speak the local language; along with English and Thai, of course. Some speak additional languages such as Lao and Khmer. They are people who both live and love the local culture. When Isan Explorer guides walk you through a temple, market, village, or any other place, rather than rattling off the checklist of essential facts like so many guides do, they concentrate on answering your questions and pointing out the little cultural details that make a place truly interesting. And, as much as possible, they encourage you to lead them through places, going to see whatever particular things pique your interest; becoming your travel companion rather than just your guide. They are truly some of Thailand's best.
Our Food
In keeping with our philosophy of making your tour as special, unique, and personalized as possible, we do not normally schedule dining stops, except for scheduled group tours. As you travel, you will discuss food with your guide who will choose an appropriate place to eat the meal of your choice at the time of your choice. Your guide will help you order so you that can eat as adventurously as you like. In fact, owing to Thai culture, few things please our guides more than helping guests sample new foods. Just as importantly, they will ensure that your food has the right degree of spiciness for your palate. We also encourage you to stop at roadside stands to buy local fruits and snacks along the way.
Our Transportation
On most trips we use roomy and very comfortable passenger vans: in Thailand these are called minibuses. On daytrips, groups of one or two people might travel in a sedan (Toyota Altis or similar) or a mid-sized MPV (such as a Toyota Innova). Regardless of how many people there are, all multi-day tours will use the vans. These vans can comfortably carry eight travelers, as long as they don't carry a lot of luggage. We will discuss the best option for groups larger than six.
On every multi-day tour you will have a dedicated driver so that your guide can give you his or her full attention instead of concentrating on the road. This increases the price of our tours a little, but it increases the quality of your experience a lot.