Isan Explorer is a family-run tour company based in Northeast Thailand, the most fascinating part of the country. Known as Isan, this vast region – covering one third of the country – is brimming with culture, wildlife, and history; and its myriad sites are just as beautiful, inspiring, and evocative as anything the rest of Thailand has to offer. Yet because only 1% of visitors to Thailand come here, Isan (often spelled Isaan) offers the kind of authentic travel experiences that are increasingly hard to find elsewhere in the country. Just look at our Thailand tours and you'll understand why we think this is such an interesting and special place.
We fully embrace the idea of slow travel and all of our tours include stops in villages, temples, and markets so you can experience genuine Isan and Thai culture up close. We often add extra stops to our tours that fit with each guest's particular interests and, as much as possible, we let you set the pace each day. This approach to tours creates more meaningful experiences than is possible with a regular tour company. Please read our About Us page to learn more about how we do things very differently from most other Thailand tour companies.
Because Isan is so off the beaten track, travel here can be a bit of an adventure at times (English is rarely spoken), but we do our best to make it easy and stress-free. And since we are based in Khon Kaen, Thailand and organize everything ourselves, we can offer you private tours at prices lower than many group tours sold by overseas tour companies.
While few tour companies come to Isan, we have made it our mission to help people explore this region – and nobody knows it better than us. The company was founded by Lonely Planet author and Khon Kaen resident Tim Bewer, whose love of the region has sent him to its remotest corners, and his wife Suttawan, who has a master's degree in Mekong studies. Because we really know the region and the local culture, we can give our guests fully authentic experiences throughout their tour.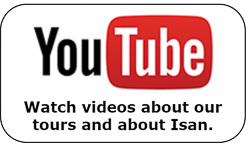 The Isan Explorer Difference
We Live Here – Nobody can match our knowledge of northeast Thailand. On most of our tours, we take you to places that literally no other tour companies visit.
We Embrace Slow Travel – We cover short distances most days to allow in-depth exploration. The less time you spend in a van, the more places and things you can see.
We Focus on Cultural Experiences – We think villages and markets are just as interesting as typical tour stops.
We Customize our Tours – Whenever possible, we add stops to your tour based on your personal interests.
Low Prices – Because we're a small company doing everything ourselves, we can offer excellent value even while providing above average service. We aren't the cheapest tour company in Thailand, but we're far from the most expensive.