Practicalities for Travel in Thailand
Last updated May 19, 2021
Accommodation
Thailand has it all, from village homestays to five-star luxury resorts. Outside tourist areas there aren't many top end choices, though even rarely visited Northeast Thailand (Isan) has some. Generally there is almost always something modern and comfortable available; albeit lacking in pizazz. Most national parks have campsites and simple but clean bungalows, which are usually designed and priced for groups.
Climate
Thailand has a tropical climate with three distinct seasons across most of its territory: cool, hot, and rainy. The cool season lasts roughly November through February, and this is the most popular time to visit. Daytime temperatures generally stay under 30ºC (86ºF) and at night it occasionally gets cool enough that a light jacket is called for. In the mountains it can get downright cold with frost occurring on some peaks in the north and northeast. From March to May, the hot season, the temperature often surpasses 40ºC (104ºF) and the humidity climbs high too. There are few visitors at this time, but with many trees in bloom and lots of festivals, travel has its benefits. Although sporadic rains begin falling around April, the real rainy season, when near daily downpours lasting about an hour (It can rain much longer, but it's rare.) burst from the skies in the late afternoon, runs June into October. Sun still shines for most of the day. The monsoon can damper your travels, but this is the season when Thailand's waterfalls are most beautiful (Most of them run dry by December or January.) and the forests and rice paddies are lush and green. Temperatures are between the extremes of the hot and cool seasons, but still hot overall.
The peninsula's weather differs from the rest of the country by having only rainy and dry seasons. On the Gulf (eastern) side most of the rain falls from September to December, while the Andaman (western) coast is rainy April through November. The Andaman coast is the wettest part of the country and rains here are heavy and often last for several hours, sometimes even all day. Many businesses on the Andaman coast close during the rainy season; especially those on the islands since the seas get quite rough. Being closer to the equator, temperature changes very little throughout the year, with highs ranging 30-33ºC (86-91.5ºF).
Customs Regulations
The import and export of counterfeit items, flora and fauna, ivory, pornographic materials, narcotics, guns, and most other types of weapons is prohibited or restricted (allowable only with advanced permission). The duty-free personal exemption is 200 cigarettes and one liter of wine or spirits. Antiques or artwork with archaeological significance may not be exported without an official dealer's receipt. Officially all items with a value higher than 20,000 baht (≈US$630) need to be declared upon arrival. Realistically, we've never heard of this rule being enforced on items for personal use like cameras, computers, and jewelry. See the Thai Customs Department for full details.
Electricity
The electricity in Thailand is 220 volts (50 cycles), which is compatible with appliances from most countries. However, most nations in the Western hemisphere, as well as Japan and Korea, use a 120-volt system. Notebook computer cables almost always have built in adapters, but for other appliances you will need a transformer.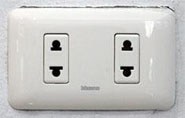 Wall sockets fit both flat prongs, the style from the USA and Japan, and round prongs. Sockets with a grounding slot (though it's often not actually grounded) are found in most, but not all decent hotels, so you should bring a three-prong to two-prong adapter. Hotel rooms often have few (cheap guesthouses might only have one) outlets and they are often in inconvenient locations, so a small power strip can be handy if you travel with lots of items that need charging.
Etiquette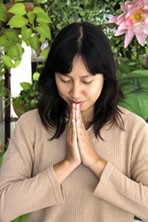 Thais are exceptionally tolerant people and foreigners will be easily forgiven for most breaches of etiquette. Most Thai social rules are just basic courtesy, though some are sure to be quite different from your own culture, which means you may need to make some effort to break your habits from home. Keep in mind that most of the time Thais will be too shy and/or polite to say anything if they see you breaking the following taboos, but that does not mean you aren't causing offense.
• Do not criticize or show even the slightest hint of disrespect for the king or anything royal – even junior members of the royal family. Most Thais revere the king as a demigod; though disparaging remarks and gestures are not just considered bad manners, they're a serious criminal offense punishable by up to 15 years in prison.
• Thais respect people with a "cool heart" (jai yen) and they avoid confrontation. No matter how stressed you become, remain calm and do not outwardly show anger or frustration. It's not only rude, it's counterproductive. A smile will get you much further than a scowl and yelling will get you nowhere, even if you are right.
• Thais greet each other with a wai. Hands are placed together prayer-like and raised to the chest or face (The height depends on the status of the person being wai-ed.) and often there will be a simultaneous bow of the head. Generally, a wai should only be initiated by younger and socially lower people, but you can return it to anyone except young children – just give them a smile instead.
• Public displays of affection are frowned upon; although these days some Thai teenagers publicly hold hands when they are not around their families.
• Thais regard the head as the most sacred part of the body, so you should never touch or point at other people's heads. Touching children's heads is usually fine, but we advise airing on the side of caution and not doing it.
• Along the same lines as the head, the feet are the lowest and least sacred part of the body, so never use them to point, close or hold open a door, or step over something or someone. Also, do not sit cross-legged in front of a monk: legs should be tucked under you or folded to the side with your feet pointing backwards.
• Shoes should be removed before entering homes, guesthouses, buildings that house Buddha images, and many businesses – look for other shoes by the entrance as a sign that you should remove yours.
• Hats should be removed before entering temple buildings.
• Step over, not on, the threshold when entering a temple or other building since many Thais believe a spirit lives there.
• When entering temple grounds, shoulders and legs should be covered. Although Thais quite often no longer follow this custom there are some important temples where it is a strictly enforced rule rather than just a suggestion. Pack a sarong in case you need to cover up before you enter a temple.
• Women should never touch a monk. To hand something to a monk, place it on a special receiving cloth he has for this purpose or somewhere within his reach rather than hand it to him directly.
• Things are changing, but Thais still dress modestly in most situations. Shorts should stretch down to the knees and tops should have sleeves.
• Topless sunbathing is both offensive and illegal.
Health & Medicine
Travel to Thailand presents no significant health risks. The sun is the biggest concern, so wear a hat, lather on the sun-block, and drink plenty of water. It's best to take it easy your first few days to give your body time to adapt. Water served in restaurants is usually filtered and bottled water is available just about everywhere. Even tap water is generally okay if you have a well-traveled stomach, though we recommend you avoid it. Ice cubes are reliably safe, though crushed ice is sometimes made from large blocks that are not handled in a completely sanitary manner.
It's important to protect yourself against mosquito bites. Malaria risk is very low since it only exists in a few thickly forested border regions, (Because of this, few people take preventive medications, but if you chose to do so be sure to take the right one since some places have resistant strains.) but Dengue Fever and Japanese Encephalitis are growing concerns and endemic across the country; though infection remains rare.
Besides a Covid-19 jab, unless you are arriving from a Yellow Fever infected country, no specific vaccinations or vaccination certificates are required. It is, however, good to make sure you are up-to-date on your routine shots. There is no better source of travel medicine information than the US Centers For Disease Control and Prevention, and most doctors, except those specializing in travel medicine, will base their recommendations to patients planning to travel overseas directly on what their read on its website.
If you do get sick, the quality of care in Thailand is international standard. This along with the low cost has made Thailand a leader in medical tourism. Prescriptions are generally not needed for common pharmaceuticals and prices are usually cheaper than what you will find at home. Know the generic names of any medicines you need.
Before leaving home, be sure your health insurance not only covers you when traveling overseas, but also covers trekking, scuba diving, riding motorcycles, or any other activity you might enjoy in Thailand. If not, purchase additional travel insurance, which will also cover you for delayed flights, lost luggage, and other things that might go wrong during your trip.
Internet
Internet is available just about everywhere in Thailand, and in big cities the connections are fast and stable. Most hotels, even cheap ones, have in-room wi-fi.
Language
English (and occasionally other international languages) is widely understood in hotels, restaurants, and shops in areas that see many foreign tourists such as Bangkok, Chiang Mai, and the beach resorts. Elsewhere, however, English is very limited: especially in the northeast where even English signs and menus are uncommon outside hotels and shopping malls. Although Thai, the official language, is taught in schools and understood by nearly everyone, in the northeast it remains a second language for the majority of the population. Isan, a dialect of Lao, is the main first language here, but Khmer and many other languages are also spoken at home in various regions.
Since Thai and Isan are tonal languages and use their own alphabet, it is quite difficult for short-time visitors to pick up more than a few words. Even words written phonetically using English letters generally cannot be sounded out correctly since most transliteration systems are, to put it nicely, bad. However, just making the effort to speak will be greatly appreciated by Thais as a sign of respect. Even just using the following three words without worrying about the tone can make you instantly popular.
| | | |
| --- | --- | --- |
| | Thai | Isan |
| Hello/Good bye | sa-wat-dee | sa-wat-dee |
| Thank you | kawp-koon | kawp-koon |
| Delicious | ah-roi | sap |
To be polite men should add krahp and women kah at the end (eg. sa-wat-dee krahp/kah). In Isan both sexes can use the ending jah.
Money
The Thai baht has been fairly stable over the past several years spending most of its time floating between 31-34 baht per US dollar. Here are the current exchange rates.
ATMs (most linked to Visa, MasterCard, American Express, Cirrus, Plus, Maestro, and JCB) are abundant, even in small towns. Most machines have a limit of 20,000 baht (≈US$625) per transaction; the daily maximum will be determined by your bank. Be sure to bring a back-up card because if the machine eats yours you might not get it back. Almost all ATMs charge an extortionate 220 baht (≈US$6.30) per transaction.
Some big city banks will change an impressive list of world currencies, while others take just dollars, pounds, and euros. Normal banking hours are about 8.30am-4pm Monday to Friday, but all cities and some small towns have bank branches open daily from about 10am until 7pm or 8pm. Large bills get better rates than small ones. Hotel exchange rates are almost always horrible. Travelers cheques can be exchanged in many banks, though they are rarely accepted as payment. Visa and MasterCard credit cards are accepted in most top end (and some mid-range) hotels and restaurants as well as many stores in shopping centers; however, you will often be charged a 2-4% fee by the retailer above and beyond any charges from your card provider. American Express is rarely accepted for payment. We recommend against using credit cards: The risk of fraud is not great, but it's likely much higher than in your home country.
Bargaining is less common than most people expect, though market vendors will sometimes shave a little of the price. Shops where tourists are the primary customers are the only places where haggling can bring you a significant reduction, though there are very few of these in the Northeast.
In larger stores (most will display a "VAT Refund For Tourists" sign) visitors can get a form that allows a refund of the 7% Value Added Tax if you have spent over 2000 baht (≈US$63) per store per purchase. This refund is only given at airports, not land borders. In the end it is often cheaper to buy from smaller stores that do not participate in this program.
Tipping
Tipping is not a Thai custom, except in the tourist industry where it's the norm. Thais, however, do usually round up restaurant (not fast food or street-side places) bills and taxi fares to the nearest 10 baht (≈US$0.30) or so. In fancy hotels and restaurants there's almost always a mandatory 10% "service charge" to be divided amongst the staff, though because managers and owners frequently pocket much of this, its common (though definitely not necessary) to give a little something directly to waitstaff, if they deserve it, and 20-50 baht (≈US$0.60-1.55), depending on the number of bags, to bellhops/porters.
For tipping tour guides, any amount will be genuinely appreciated. That said, 300-500 baht (≈US$9.40-15.60) per day is typical and reasonable; though it absolutely should depend on the quality of the service you get during the course of your tour. Likewise, if you wish to show appreciation to your driver, 100-200 baht (≈US$3.10-6.20) is fair. For local guides at historic sites or in national parks, a tip of 150-200 baht (≈US$4.70-6.20) will suffice for a full day; proportionally less for a half-day or just a few hours. And again, the tip should reflect the quality of their work.
Telephones
The Thai phone system is modern and cell phone reception is available in all but the most remote areas. Thailand is on the GSM network, so you can use your phone from home by activating international roaming. But the costs of both making and receiving calls are usually obscenely high, so most people buy a SIM card in Thailand and use a local number during their time in Thailand. These cost about 50 baht (≈US$1.55) and are sold in many places, including airports. Many phone companies deliberately lock their phones to prevent people from changing networks, but in Thailand phones can be easily and cheaply unlocked – however, this will probably void your phone's warranty. Second-hand phones are cheap and plentiful and even a new phone can be had for 500 baht (≈US$15.60). Thai SIM cards work with prepaid phone cards which are sold in convenience stores. Local calls cost about 2 baht (≈US$0.06). There are different options for international calls and the prices vary depending on which country you call, but generally it is cheapest to use the code 006 or 008, which cost as little as 3 baht (≈US$0.10) per minute to the USA and 6 baht (≈US$0.19) to the UK and some other European countries. You can also buy scratch-cards at 7-11s and other shops that offer an even lower rate to most countries.
If you are calling to Thailand, use the country code 66 (preceded by your own country's international exchange prefix) and drop the zero in front of the phone number.
Time
Thailand is 7 hours ahead of London (GMT/UTC +7) and 12 hours ahead of New York (EST +12). Thailand does not observe daylight saving time.
Transportation
Getting to Thailand
Bangkok is one of the biggest air hubs in Asia and the competition helps keep flight prices low. Most flights use Bangkok's Suvarnabhumi Airport (BKK) and some international flights continue to Chiang Mai, Phuket, or Samui after a layover in Bangkok; these smaller airports also host a few direct flights.
There are convenient border crossings to/from Laos, Cambodia, and Malaysia and Thai visas are available at all but a few minor ones.
Getting to Bangkok from the Airport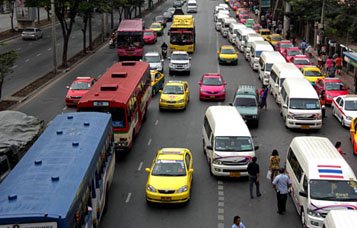 Most people use taxis. Taxi stands are located at doors #4 and #7 on the first floor of Suvarnabhumi Airport. An English-speaking employee will write down your destination and give it to the driver and a 50 baht (≈US$1.55) surcharge will be added to the final price on the meter. The flag-fall rate for the first kilometer (0.6 miles) is 35 baht (≈US$1.10) and then each additional kilometer costs from 5 to 8.5 baht (≈US$0.16-0.27), with the rate rising the further you go. If a driver asks you to pay a flat fare, refuse, no matter how cheap it seems because the meter price will surely be lower. Except late at night, taking the expressway (Taxi drivers usually call it the "highway.") will save a lot of time – perhaps as much an hour or more during the worst traffic jams. Passengers must pay the tolls when entering and exiting. The typical final fare, including tolls and the airport fee, to the most popular places in central Bangkok will usually cost about 300-400 baht (≈US$9.40-12.50) with the journeys taking around 30-45 minutes. Taxis are modern, clean, and comfortable so there isn't much benefit to using the 1000 baht (≈US$31) or more airport "limos"; though if that's your preference you'll find plenty of them around arrivals. Some hotels offer reasonable rates for hotel pickup while others demand upwards of US$100.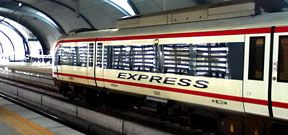 Potentially the fastest way to downtown is the Airport Rail Link (5.30am-midnight) whose station is down at the airport's basement (Sometimes labeled B and sometimes labeled B1.) level. The City Line stops at all eight stations including Makkasan, which connects to Bangkok's MRT underground trains (Phetchaburi station) and Phaya Thai, which joins the city's BTS elevated trains (Phaya Thai station). It takes 26 minutes to Phaya Thai station (45 baht/≈US$1.40) at the end of the line. Regular public buses to most parts of the city are available from the airport's Transport Center, which is reached by a free shuttle from outside arrivals.
Getting to Khon Kaen
Before Covid19 there were over a dozen daily flights from Bangkok to Khon Kaen from both Suvarnaphumi and Don Mueang airports. Even just a few days in advance was usually not hard to get a ticket for under 1000 baht (≈US$31), although advanced booking is still recommended. There were also daily flights between Khon Kaen and Chiang Mai, Hat Yai, and Phuket for just a little more. We can't predict when, but it's likely that this will all be true again.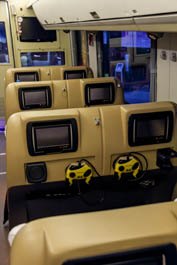 Long-distance bus service in Thailand is excellent (Some VIP and First Class buses have wi-fi, personal video screens, and extra big seats.) and most Thais traveling to Khon Kaen ride the bus. It takes about seven hours from Bangkok during the day and six hours overnight with prices ranging around 330 baht (≈US$10.30) for the cheapest (and least comfortable) buses to 560 baht (≈US$17.50) for the top service. Our favorite is Nakhon Chai Air: you can book tickets by phone (029-360009) up to 12 hours before departure and pay at any 7-11 for a 20-25 baht (≈US$0.65-80) service fee. Except for holidays and Friday and Sunday nights, bus tickets can usually be bought at the Northeast bus station (pronounced "Maw Chit") or the companies' own nearby station shortly before departure: you'll rarely need to wait more than an hour or two. There is also a nightly bus direct from Suvarnabhumi Airport at 9pm for 365 baht (≈US$11.40). Tickets are sold by door #8 on the first floor. Coming from Chiang Mai (427-949 baht/≈US$13.35-29.65) or other northern towns, there are only a few direct buses each day (usually traveling overnight) though you can also go to Phitsanulok and switch to one of the frequent buses to Khon Kaen departing from there.
Thailand's train system is a good way to get around if you don't need to arrive on time. Three of the four daily departures to Khon Kaen from Hua Lamphong station in central Bangkok run overnight and are schedule to arrive in Nong Khai, on the Laos border, conveniently in the morning – which means they arrive in Khon Kaen in the wee hours. The other train runs during the day. In sleeper cars the seats are folded up into berths: first-class is a private two-person compartment with a washbasin and there is always air-conditioning while second-class has curtains to offer some privacy and sometimes air-conditioning. The excellent website The Man In Seat Sixty-One has information and photos of the various classes. Bangkok-Khon Kaen fares range from 399 baht (≈US$12.50) for a second-class air-con seat to 1168 baht (≈US$36.50) for a first-class lower bunk sleeper. Within Thailand trains can be booked up to 60 days in advance at train stations and travel agencies – though do not trust the agencies around Hua Lamphong station in Bangkok.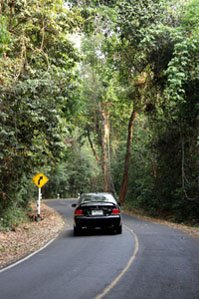 Thailand's highway system is good and having your own wheels here has many advantages, but the numerous hassles and dangers make driving quite stressful and difficult. Many drivers disregard (or are unaware of) basic road rules. It is common to find people driving the wrong way on roads, running red lights, switching lanes without looking, and driving way too fast (or way too slow); plus, despite what any road manual says, the right of way goes to whoever gets there first, which makes intersections in cities chaotic. One other issue for those from the USA and mainland Europe is that Thais drive on the left side of the road, which takes some time to get used to. Needless to say, if you do hire a car, drive defensively every second you are behind the wheel. The best way to avoid all this is to hire a car with a driver, which can be done at little additional cost through local car hire companies. If you do drive yourself, without a doubt you need the best insurance you can buy, but regardless of the insurance you have, if you get into an accident with someone it will be your word against theirs – and some people see an accident with a rich person (Thai or foreigner) as an opportunity for extortion. Foreigners can drive legally using driving licenses from their home countries, though having an International Driving License (available through your local auto club) is recommended to avoid any potential hassles.
Visas & Immigration
Visitors from many countries, including Australia, Canada, Japan, New Zealand, the USA, and most in Europe, can enter Thailand for 30 days without a visa. Visitors from Argentina, Brazil, Chile, Peru, and South Korea get 90 days. A 30-day extension (1900 baht/≈US$59.50) can be obtained at any immigration office. The law states that only two visa-waiver entries are allowed by land and six by air in each calendar year, though in practice it is up to the discretion of immigration officials about how many visa-waiver entries to allow people – genuine tourists (as opposed to long-term residents doing regular visa runs) usually have nothing to worry about with multiple entries. Visitors from several other nations, including China, Taiwan, India, and Lithuania are allowed to apply for a 15-day "visa on arrival" at airports and many land crossings. This costs 2000 baht (≈US$63) and requires a 4x6cm photo.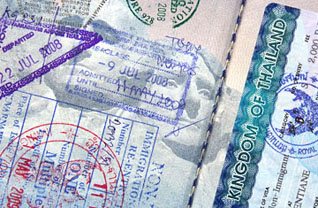 The other option is to apply for a tourist visa at a Thai embassy or consulate before your trip. Tourist visas last 60-days (costs vary by country) and can be extended for an additional 30 days (1900 baht/≈US$59.50). A few Thai embassies and consulates give multiple-entry tourist visas which grant 60 days for each entry. When applying for an extension, take a passport-sized photo, a receipt from your hotel (some immigration offices require this, some do not), and photocopies of both the photo and visa pages in your passport and the departure card you received upon entering the country with you to the immigration office.
No matter what visas people use to enter Thailand, everybody must have a passport with six-months validity remaining and the law states that immigration officials can ask to see sufficient funds to cover the duration of the trip (a credit card will suffice) and an airplane ticket out of Thailand, but we've never heard of them actually asking for these. For full details on immigration issues, including a list of Thai embassies and consulates, visit the Ministry of Foreign Affairs website.
What to Pack
As any seasoned traveler can tell you, the best advice is to pack light. Lay out everything you want to take and then only bring half of it – or less. Light, natural fabrics and loose-fitting clothes are the most sensible. They help keep you cool, are easily washable, and won't make your luggage heavy. Shirts with sleeves are best. Sleeveless tops won't offend, though outside beaches and tourist areas they often attract attention. If you do go sleeveless, carry a shawl to cover your shoulders upon entering temples. Shorts should go below the knees: note that adult Thai men usually don't wear them. Roll-up cargo pants are very practical. Thailand is tropical, but do pack a sweater or light jacket because it can get truly chilly at night in the cool season and at high elevations all year long. Plus, some restaurants and inter-city buses jack their air-conditioning up to eleven. Be sure to pack comfortable walking shoes. Sandals are acceptable almost everywhere, and are practical since you must remove footwear when entering temples, homes, and even many shops. Leave the heels at home. Thais usually dress very casual and restaurants that expect a jacket and tie are extremely rare. It's also a good idea to not wear black clothes since these are occasionally (rarely) not allowed at shrines and religious ceremonies.
Sunscreen is, of course, a must due to the strong tropical sun and a wide-brimmed hat is also a good idea. Umbrellas are as useful against the sun as they are against the rain. If you will be sleeping in a national park or doing a homestay, pack a towel. Read the Electricity and Health & Medicine sections above for further packing advice.
Additional Packing Information for Trekkers and Birdwatchers
Trekkers on our trips spend much of their time off trail, so you must wear long trousers. Avoid bright colors which can frighten wildlife and cause them to flee quickly. On overnight treks you'll sleep in camping hammocks, and while sleeping bags from the national park are provided, it's better to bring your own if you can. As mentioned above, it often gets cold at high elevations and on some treks you'll be sleeping on the top of a mountain, so a warm top is necessary and even a warm hat or ear muffs might be appreciated in the coldest months or if it gets windy. Also pack toilet paper, a flashlight, spare batteries, a rain jacket, snacks, insect repellent, and a little spending money for use at the national park in case you want to buy snacks, drinks, or souvenirs. Leeches inhabit many Thai forests and though they are most abundant July to October they can be encountered any time, so leech-proof socks are good to have. We can provide these for you.
For birdwatchers, we highly recommend that you bring your own binoculars and/or spotting scopes. A few are available for hire at each of the parks, but they're not top quality and there's a chance that they will all be checked out by other visitors. As for field guides, we recommend A Field Guide to the Birds of Thailand by Craig Robson. Also, even though this is tropical Thailand, you will be birding in a mountainous region, so pack warm clothes and gloves just to be prepared.