Southern Isan Shortcut Tour
Duration
4 days
Start/Finish
Khon Kaen to Khon Kaen
Highlights
• Seeing how sitting mats are woven
• Seeing pottery made using ancient methods
• Rare, historic Isan-style temple buildings
• Meeting monkeys
• Bathing an elephant in the river
• Evocative Khmer ruins of Phanom Rung and Muang Tam
• Seeing how silk is made
Description
This is a shortened version of our seven-day Southern Isan tour. We start with two handicraft villages, one where pottery is made with the ancient paddle and anvil method, and then go to Roi Et city to see one of the world's tallest statues. We will then head south to visit elephants and explore several of Thailand's best Khmer ruins, including the incredible Phanom Rung. To finish up we'll see the old city gate and other interesting monuments in Nakhon Ratchasima city and visit a silk weaving village to see the complete process of making silk fabric from worm to loom.
About Elephant Tourism
Elephant tourism is rightly controversial, though we worked with the renowned Save Elephant Foundation to ensure that our tours are not only responsible, but actually beneficial to the elephants involved. Click here to read how.
Add-Ons
Make the most of your trip with our special add-on activities before, during, or after your tour.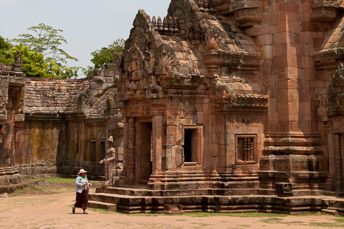 Day 1 – Maha Sarakham & Roi Et
The tour begins with a visit to a village where most residents make reed mats (suea), which are used across the nation for sitting on the ground. Next we'll see pottery made using the ancient paddle and anvil method. In Roi Et city we'll gaze up at a 59.2-meter (194 feet) tall standing Buddha image, one of the world's largest statues. Outside the city we'll see a temple with a pair of restored historic buildings, including a wooden Buddhist scripture library (haw-dtrai) built in the middle of a pond to keep termites at bay. Then we will stop in a joss stick making village and also, if it's not the rainy season, see how salt is extracted from dirt. Finally, we'll stroll around the ancient Ku Phra Kona Khmer temple ruin, which has been converted into a modern Buddhist shrine and hosts a troop of semi-tame monkeys, before rolling into the little riverside town of Tha Tum.
Overnight in Tha Tum
Day 2 – Elephant Village & Surin
Ban Ta Klang is home to the Kui (aka Suai) people, Thailand's legendary elephant handlers, and about 150 elephants live side-by-side with them at their homes in the village. We will spend the morning getting up close and personal with elephants by walking with them to the Mun River where we can jump in to help the mahouts bathe them. We'll then visit the elephant museum and see the elephant cemetery. We will say good bye to our pachyderm friends by feeding them some fresh fruits or vegetables. Surin province is just as renowned for its handicrafts as it is for its elephants and after we bid farewell to the pachyderms, we will visit a workshop to see Khmer-style silver beads and other products being made by hand. The most expensive silk fabric in Thailand, popular with the royal family, of course, is made in Ban Tha Sawang village. The exquisite brocade cloth (called paa yok tawng) made here uses threads coated in gold and silver and is woven on a two-story-tall loom worked by four women simultaneously.
Overnight in Surin
Day 3 – Muang Tam & Phanom Rung
Today we will visit two of Thailand's biggest and best Khmer ruins: Phanom Rung and Muang Tam. Crowning an extinct volcano with views all the way off to Cambodia and reached by a grand promenade, Phanom Rung is a brilliantly restored temple built mostly in the 12th century. The artistic detail is as beautiful as the entire structure is grand and it will impress you even if you've already visited Cambodia's Angkor Wat. Down below Phanom Rung is Muang Tam, a smaller but also impressive and excellently restored ruin that retains some wonderful carvings. Being on flat ground, it follows a more typical layout (the same as Angkor Wat) and the complex is surrounded by four lotus-filled pools. Near Khorat city, Dan Kwian village has been producing pottery for hundreds of years. The original rough, rust colored products are still made, along with a great variety of vibrant modern designs. We'll visit a seemingly timeless workshop with its giant wood-fired kilns and hit a few stores to see the finished products.
Overnight in Khorat
Day 4 – Khorat
Nakhon Ratchasima is a bustling modern city, though its moat and city fortifications still stand as evidence of its long history. We'll start by admiring Wat Pa-Yap, which has a shrine encrusted with stalactites, stalagmites, and other beautiful rocks rescued from a cave that was destroyed during the excavation of a quarry. Then we'll join the devotees at the very holy Thao Suranari Memorial, built in honor of a woman who, according to legend, devised and led a prisoner rebellion against the invading Lao army (One version says that the women seduced the soldiers and then the men launched a surprise attack.) in 1826, thus saving the city. Performers do a local folk dance throughout the day to thank "Grandma Mo" for wishes people think she has answered. Many of the lovely buildings at nearby Wat Salaloi, supposedly founded by Thao Suranari and her husband, are decorated with Dan Kwian ceramic tiles. In Ban Prasat, on the way back to Khon Kaen, we'll see the remains of an ancient agrarian culture in three excavated burial sites displaying skeletons and pottery in situ. Then, saving one of the best sites for the end, we'll visit a silk weaving village and see the process of making silk fabric, from raising the silk worms to spinning and dying the thread to the painstaking hand-weaving. Our last stop is a temple with historic Isan-style murals.
If our itinerary doesn't fit your exact needs and desires, please let us know. With advance notice we can usually modify things.
Prices valid until March 2023.
Hotel

Level
Number of Persons
Price per person, two per room (baht)
1
2
3
4
5
6
7
8
9+
Budget
46,700
23,600
16,850
13,050
11,400
9,800
8,950
8,050
By Request
Deluxe
51,000
25,800
19,600
15,100
13,800
11,850
11,250
10,100
Homestay
47,750
24,850
17,750
14,050
12,200
10,750
9,750
8,950
Price Includes
All sightseeing and activities as specified in the itinerary with English-speaking local guides, entrance fees, transportation in an air-conditioned vehicle, hotel transfers, accommodation, breakfast at deluxe-level accommodation and village homestays, dinner at village homestays, snacks and cold water in the vehicle, accident insurance, taxes, and pre-departure travel consultation.
Price Does Not Include
Transportation to Khon Kaen, meals and drinks other than what is specified above, travel and medical insurance, personal expenses (such as laundry, souvenirs, snacks, etc.), tips/gratuities, visa fees (Thai visas are free or not required for most international visitors.), and any additional expenses incurred due to airline schedule changes, natural disasters, political actions, or other factors beyond our control.
Booking/Cancellation Policies
• For tours longer than one day, a non-refundable deposit of 30% is required as soon as possible after making your reservation.
• The full payment is due before the tour begins. This can be done after you arrive in Thailand, as long as you have access to sufficient funds before you depart on your tour.
• International payments are best done by bank transfer, and the cheapest, fastest, and easiest way is with TransferWise. Credit/debit cards can be used through TransferWise or other online wire transfer services. For people inside Thailand, we accept payment via cash (Thai baht, US dollars, British pounds, and euros), ATM transfer, and counter deposit to Siam Commercial Bank.
• If local taxes and/or fuel prices increase significantly, we reserve the right to add comparable surcharges.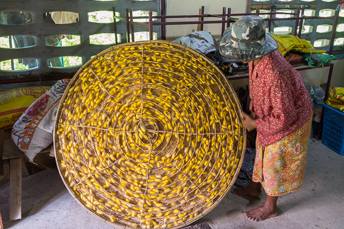 This is the accommodation that we normally use for this tour. Of course, if any place is fully booked during your travel dates, we will have to substitute a similar property. If this happens, we will let you know right away.
Click here to see a general description of our accommodation levels.
Day 1 – Tha Tum
Budget: Srithongkul Riverside Hotel
Deluxe: Srithongkul Riverside Hotel
Homestay: Ban Nong Bua village homestay
Day 2 – Surin
Budget: Maneerote Hotel
Deluxe: Surin Majestic Hotel
Homestay: Baan Chang Ton
Day 3 – Khorat
Budget: Romyen Garden Place
Deluxe: Kantary Hotel
Homestay: Romyen Garden Place