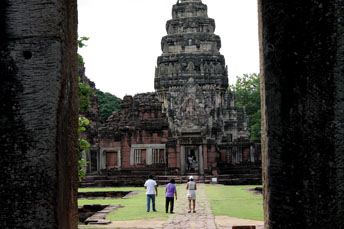 Duration
Full Day
Start/Finish
Khon Kaen to Khon Kaen
Highlights
• Khmer temple ruins of Phimai
• Sai Ngam, Thailand's largest banyan tree
• The ancient burial sites in Ban Prasat
• Rare, historic Isan-style temple murals
Description
A great trip for history lovers, the primary stops are two interesting and important historical sites in Nakhon Ratchasima (Khorat) province. The restored Khmer temple at Phimai is one of Thailand's most impressive historical sites and the archaeological digs at Ban Prasat have uncovered a treasure trove of ancient artifacts and skeletons from up to 3000 years ago. We also stop to walk through Thailand's largest banyan tree; admire original Isan-style temple murals; and probably see silk weaving.
Add-Ons
Make the most of your trip with our special add-on activities before, during, or after your tour.
We head out early to the impressive and beautifully restored Khmer temple at Phimai. Built beginning in the late 10th century AD, it predates Angkor Wat, and likely inspired its design. Centered on a 28-meter (62 feet) tall prang surrounded by several smaller buildings and solid fortifications, it's as impressive for its size as it is for its artistic detail: many lintels and other carvings remain intact. We'll also take a quick look at what's left of the original city gate and walk under Sai Ngam, Thailand's largest banyan tree covering a 4500-sq-meter (1 acre) island just outside of town.
After lunch, we'll go back a further two thousand years in time at nearby Ban Prasat, where the remains of an ancient agrarian culture were uncovered and three excavated burial sites display skeletons and pottery in situ. There's also a chance to see silk weaving here, though it depends on whether she is working that day or not. Usually she is, but if you want to see silk weaving for sure, you might prefer our Stone & Silk tour which also visit Phimai. On the way back to Khon Kaen we'll stop to admire a historic little temple building featuring original Isan style murals, which are very rarely seen any more..
If our itinerary doesn't fit your exact needs and desires, please let us know. With advance notice we can usually modify things.
Prices valid until March 2023.
| | | | | | | | | | |
| --- | --- | --- | --- | --- | --- | --- | --- | --- | --- |
| Group Size | 1 | 2 | 3 | 4 | 5 | 6 | 7 | 8 | 9+ |
| Price Per Person | 6,350 | 3,250 | 2,550 | 1,950 | 1,600 | 1,400 | 1,250 | 1,100 | Ask |
Price Includes
All sightseeing and activities as specified in the itinerary with English-speaking local guides, entrance fees, transportation in an air-conditioned vehicle, hotel transfers, snacks and cold water in the vehicle, accident insurance, taxes, and pre-departure travel consultation.
Price Does Not Include
Meals and drinks, travel and medical insurance, personal expenses (such as souvenirs, snacks, etc.), tips/gratuities, and any additional expenses incurred due to airline schedule changes, natural disasters, political actions, or other factors beyond our control.
Booking/Cancellation Policies
• For tours longer than one day, a non-refundable deposit of 30% is required as soon as possible after making your reservation.
• The full payment is due before the tour begins. This can be done after you arrive in Thailand, as long as you have access to sufficient funds before you depart on your tour.
• International payments are best done by bank transfer, and the cheapest, fastest, and easiest way is with TransferWise. Credit/debit cards can be used through TransferWise or other online wire transfer services. For people inside Thailand, we accept payment via cash (Thai baht, US dollars, British pounds, and euros), ATM transfer, and counter deposit to Siam Commercial Bank.
• If local taxes and/or fuel prices increase significantly, we reserve the right to add comparable surcharges.