Duration
9 Days
Start/Finish
Khon Kaen to Khon Kaen
Highlights
• Seeing how mut-mee fabric is made
• Vivid Ban Chiang pottery
• Beautiful rock formations at Phu Phrabat
• Mountain scenery along the Mekong River
• The immense, bizarre sculptures at Sala Kaew Ku
• Wandering the cliffside walkways at Wat Phu Tok
• Wat Phra That Phanom, the holiest temple in Isan
• Dinosaur fossils and footprints
Description
This tour takes a diverse spin through the northern half of Isan with the views and the villages along the Mekong River a focus. We begin with one of the most important historical sites in Southeast Asia, UNESCO World Heritage-listed Ban Chiang, which is most famous for its striking pottery, and then hit the beautiful historic site of Phu Phrabat before joining the Mekong River at Sangkhom. The views from Wat Pa Tak Suea, perched high above the town, are unforgettable. The wonderfully bizarre Sala Kaew Ku sculpture park, one of Thailand's most interesting sights, is the highlight of Nong Khai, which you can choose to explore by bike. As we continue along the Mekong we'll walk the cliffside paths at Wat Phu Tok, follow dinosaur footprints, marvel at the sunrise in Nakhon Phanom, and bask in the glow of Phra That Phanom, one of the holiest stupas in Thailand. Turning back to the interior we'll walk across a lotus pond and see some of the best remaining Khmer ruins in the north around Sakon Nakhon. Then you'll drive through the Phu Phan mountains to see dinosaur fossils uncovered, but left in situ in the rock.
From around November to February, we can adjust the itinerary so you can take a boat ride through the vast spread of pink water lilies in Tale Bua Dang, the "Red Lotus Lake."
Add-Ons
Make the most of your trip with our special add-on activities before, during, or after your tour.
Day 1 – Ban Chiang
On the way north from Khon Kaen we'll stop to meet the urban monkeys that live in Kumphawapi's town center and visit an indigo mut-mee weaving village. Ban Chiang is the site of an enigmatic civilization that began making bronze tools around 2000 BC; long before any other known place in East Asia. The myriad artifacts unearthed here, most famously the iconic burnt ocher swirl pottery, rewrote the history books and today can be seen both inside the excellent Ban Chiang National Museum and in situ at a burial ground excavation site. Mixing the ancient with the modern, we'll visit a village where locals make large pots using the original method, which uses no potter's wheel and see how sticky rice baskets are woven. In Udon Thani city, we'll sleep near Nong Prajak lake, which has walking paths and a night market.
Overnight in Udon Thani
Day 2 – Phu Phrabat & Sangkhom
We'll start the day by visiting a family that makes palm sugar at their home. Although it's only a cold-season activity we can get a demonstration any time of the year. We'll then see the punishments awaiting in the Buddhist Hell at Wat Pho Chai Si's graphic sculpture park and head to the hills of Phu Phrabat, where the beautiful historical park protects ancient rock carvings and paintings, as well as some incredible natural rock formations. After leaving the forest, we'll meet the Mekong River at little Sangkhom where you can enjoy the awesome mountain-top views of the Mekong Valley from Wat Pa Tak Suea, perched on a cliff high above Sangkhom.
Overnight in Sangkhom
Day 3 – Nong Khai
We'll take in more wonderful Mekong River scenery at Wat Hin Mak Peng temple and then continue to hug the Mekong as we head to a village to see people hand-rolling spring roll wrappers and visit a topiary park before rolling into the low-key city of Nong Khai where we'll stroll the Indojin Market, filled with bric-a-brac from Thailand, China, and other countries. After lunch we'll explore the city by bike (or you can choose to go by car) visiting several unique sites, the highlight of which for most people is Wat Pho Chai and its incredible murals.
Overnight in Nong Khai
Day 4 – Sala Kaew Ku & Bueng Kan
Sala Kaew Ku, the day's first stop, is a wonderfully bizarre religious center filled with immense and strange concrete sculptures blending Buddhist and Hindu iconography. We'll then continue down along the Mekong River, often on small country roads, visiting a pottery village and a temple honoring naga (magical serpents). Finally, the red boulders at Ban Ahong are a very scenic stop shortly before we arrive in Bueng Kan city.
Overnight in Bueng Kan
Day 5 – Wat Phu Tok & Ban Kham Pia
We'll begin the day in a village seeing how thatch roofs are made before climbing and exploring the labyrinth of walkways at Wat Phu Tok, a temple built on a mountain plateau with wooden platforms leading along the cliffs. We'll then, based on your preference, either trek up to a soaring clifftop viewpoint in the Phu Wua Wildlife Reserve or spend a few hours strolling around a typical agricultural village seeing local life up close – or do a little of both. We'll arrive in Bung Khla, our overnight stop, early enough to fully enjoy the incredible views of the mountain-lined Mekong River.
Overnight in Bung Khla
Day 6 – Tha Uthen & Nakhon Phanom
We'll follow the Mekong River south, stopping to see some amazing wood carving and dinosaur footprints, before taking a break to enjoy lunch with the peaceful scenery of the Two-Coloured River, where the greenish Songkhram River joins the muddy brown Mekong. Further downriver we'll see the soaring 66-meter (217 feet) tall Phra That Tha Uthen stupa and ogle the impressive variety of local foods for sale in the Tha Uthen market. Sticking to country roads hugging the Mekong, we'll see hats made from bamboo husks and walk over a rickety bamboo bridge to a small island (accessible at the end of the dry season only). It's then down to Nakhon Phanom, a very laid-back capital city with beautiful mountain views.
Overnight in Nakhon Phanom
Day 7 – That Phanom & Nakhon Phanom
Probably the highlight of time spent in Nakhon Phanom is watching the sun rise behind the mountains across the Mekong River in Laos. We'll then drive down to That Phanom, home to the holiest temple in Isan. Its gleaming white 53-meter (174 feet) stupa, topped with a 16-kilogram (35 pounds) jewel-encrusted gold parasol towers over the little town and attracts devotees from across both Thailand and Laos. The town also has a well-preserved block of French-Indochina style buildings, a large symbolic arch, and a Buddhist temple with historic murals. On the way back, we'll stop to visit a basket weaving village and, if you wish, you can hear your destiny predicted by a local spirit medium. Returning to Nakhon Phanom city, we'll visit the Former Governor's Residence Museum to see examples of the "fire boats" that grace the river at the end of the Buddhist lent, and then enjoy some marvelous modern temple murals..
Overnight in Nakhon Phanom
Day 8 – Sakon Nakhon
After taking in another glorious sunrise, we'll head west, leaving the Mekong River behind. The first of today's many stops is a faithful replica of a house where Ho Chi Minh lived and planned his resistance (from 1928-1929). Then we'll visit a rattan-weaving village, local cultural museum, blacksmith workshop, Catholic cathedral, and a park full of lotuses before arriving at the 10th-century Phra That Narai Jeng Weng, one of the best Khmer ruins in the area. It's a far cry from the massive Khmer temples in the southern half of Isan, but it still has some lovely carvings intact. As we enter Sakon Nakhon city, we'll pass an original laterite Khmer causeway, part of the road network that extended all the way to Angkor Wat. We'll admire some of the most adorable naga in Thailand and then finish the day at Wat Phra That Choeng Chum, which has some interesting architecture, old and new.
Overnight in Sakon Nakhon
Day 9 – Phu Phan Mountains & Kalasin
The first half of our drive back to Khon Kaen crosses the Phu Phan Mountains and some spots are almost as beautiful, in their own way, as the scenery back along the Mekong River. First we'll see lots of products gathered from the forest in the Talat Klang Dong Sang Kaw jungle market. Then we visit a modern all-wood ubosot and go inside a giant stupa. We finish with a look at the Sirindhorn Dinosaur Museum, which features some fossils left embedded in the ground where they were discovered.
If our itinerary doesn't fit your exact needs and desires, please let us know. With advance notice we can usually modify things.
Prices valid until March 2023.
       

Hotel

        

Level
Number of Persons
Price per person, two per room (baht)
1
2
3
4
5
6
7
8
9+
Budget
100,350
50,600
35,950
27,200
23,250
19,700
17,950
15,950
By Request
Deluxe
109,300
55,250
41,900
31,700
28,550
24,150
23,000
20,400
Homestay
100,250
52,250
36,850
28,700
24,350
21,150
19,100
17,450
<![if supportMisalignedColumns]> <![endif]>
Price Includes
All sightseeing and activities as specified in the itinerary with English-speaking local guides, entrance fees, transportation in an air-conditioned vehicle, hotel transfers, accommodation, breakfast at deluxe-level accommodation and village homestays, dinner at village homestays, snacks and cold water in the vehicle, accident insurance, taxes, and pre-departure travel consultation.
Price Does Not Include
Transportation to Khon Kaen, meals and drinks other than what is specified above, travel and medical insurance, personal expenses (such as laundry, souvenirs, snacks, etc.), tips/gratuities, visa fees (Thai visas are free or not required for most international visitors.), and any additional expenses incurred due to airline schedule changes, natural disasters, political actions, or other factors beyond our control.
Booking/Cancellation Policies
• For tours longer than one day, a non-refundable deposit of 30% is required as soon as possible after making your reservation.
• The full payment is due before the tour begins. This can be done after you arrive in Thailand, as long as you have access to sufficient funds before you depart on your tour.
• International payments are best done by bank transfer, and the cheapest, fastest, and easiest way is with TransferWise. Credit/debit cards can be used through TransferWise or other online wire transfer services. For people inside Thailand, we accept payment via cash (Thai baht, US dollars, British pounds, and euros), ATM transfer, and counter deposit to Siam Commercial Bank.
• If local taxes and/or fuel prices increase significantly, we reserve the right to add comparable surcharges.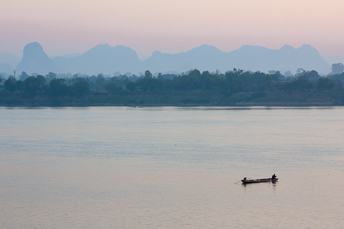 This is the accommodation that we normally use for this tour. Of course, if any place is fully booked during your travel dates, we will have to substitute a similar property. If this happens, we will let you know right away.
Click here to see a general description of our accommodation levels.
Day 1 – Udon Thani
Budget: Jamjuree Home
Deluxe: Prajaktra Design Hotel
Homestay: Jamjuree Home
Day 2 – Sangkhom
Budget: Sangkhom River View
Deluxe: Sangkhom River View
Homestay: Ban Pak Som-Ban Lamphu Pan village homestay
Day 3 – Nong Khai
Budget: Mut Mee Garden Guesthouse
Deluxe: Mut Mee Garden Guesthouse -or- Pimali*
Homestay: Ban Prao village homestay
Day 4 – Bueng Kan
Budget: Rachawadee Hotel
Deluxe: The One Hotel
Homestay: Ban Ahong village homestay
Day 5 – Bung Khla
Budget: Mon Prasit Resort
Deluxe: Mon Prasit Resort
Homestay: Ban Kham Pia village homestay
Day 6 – Nakhon Phanom
Budget: P Hometel
Deluxe: The River Hotel
Homestay: Thai Sak Homestay (Ban At-Samat village)
Day 7 – Nakhon Phanom
Budget: P Hometel
Deluxe: The River Hotel
Homestay: Thai Sak Homestay (Ban At-Samat village)
Day 8 – Sakon Nakhon
Budget: Chokdee Place
Deluxe: Chokdee Place
Homestay: Chokdee Place
*These hotels offer very different styles. We let you choose the one that's right for you.
See the gorgeous