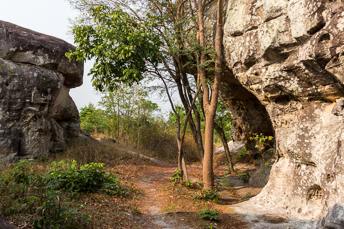 Duration
Full-Day
Season
Year-Round
Start/Finish
Khon Kaen to Khon Kaen
Highlights
• Beautiful and bizarre rock formations
• Vast views from atop the mountain
Description
Nam Phong National Park's northern half blankets long, low Phu Phan Kham mountain. The park is best known for its vast clifftop views across Ubonrat Lake to the Phu Wiang Mountains, but the variety of beautiful and interesting rock formations spread throughout the forest is the real highlight and we spend the day walking around, climbing up, and even passing through many of them. This is not a wildlife-rich forest, though we will for sure see many different lizards and probably some wild chickens. There are many orchids and herbs in the rainy months.
Difficulty
There are no long, steep climbs, but due to the rough terrain in some sections and the distance (17 kilometers / 10.5 miles) this trek is rated difficult. However, there are two options to make it easier. Near the end, we can use a dirt road to a small village to skip the rough, rocky, off-trail final descent down to the lake. It's also possible to do only the easy first half of the trek, which has just a few short uphill climbs. This option (8 kilometers / 5 miles) is suitable for children and we can fill out the afternoon with some stops outside the park, such as a bamboo basketry village and a historic temple.
Safety
There are no significant dangers in the park, but trekking always entails some risk. Isan Explorer provides limited accident insurance during your trek, but we advise you to have your own full travel and medical insurance. Your guide and the park rangers have received basic first aid training.
Add-Ons
Make the most of your trip with our special add-on activities before, during, or after your tour.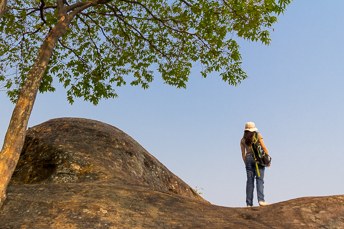 We begin the trek atop Phu Phan Kham mountain, exploring many giant, bizarrely eroded sandstone outcrops – including the iconic Hin Chang Si ("Elephant Rubbing Stone") – and crawling into a couple of interesting small caves. We'll also take in some vast views of the lake and surrounding countryside from several viewpoints. We then walk through the forest along the top of the mountain to another viewpoint above a long vertical cliff, passing – and in one case passing through – many more giant rock outcrops along the way. We'll cross over to the other side of the mountain for a look down into a forested valley and then head back to our starting point for lunch.
There's a little free time to further explore the biggest outcrops before we begin our descent down to the lake passing even more beautiful stone scenery. This route is rarely used and the park ranger will probably need to break out his machete out at some points. After visiting a very devout forest temple, where many of the monk's quarters are built atop tall outcrops, we finish the trek with a steep rocky scramble to the bottom of the mountain.
If our itinerary doesn't fit your exact needs and desires, please let us know. With advance notice we can usually modify things.
Prices valid until March 2023.
| | | | | | | | | | |
| --- | --- | --- | --- | --- | --- | --- | --- | --- | --- |
| Group Size | 1 | 2 | 3 | 4 | 5 | 6 | 7 | 8 | 9+ |
| Price Per Person | 7,530 | 3,950 | 2,850 | 2,250 | 2,050 | 1,800 | 1,750 | 1,650 | Ask |
Price Includes
All sightseeing and activities as specified in the itinerary with English-speaking local guides, entrance fees, lunch, transportation in an air-conditioned vehicle, snacks and cold water in the vehicle, hotel transfers, accident insurance, taxes, and pre-departure travel consultation.
Price Does Not Include
Travel and medical insurance, personal expenses (such as souvenirs, snacks, etc.), tips/gratuities, and any additional expenses incurred due to airline schedule changes, natural disasters, political actions, or other factors beyond our control.
Booking/Cancellation Policies
• For tours longer than one day, a non-refundable deposit of 30% is required as soon as possible after making your reservation.
• The full payment is due before the tour begins. This can be done after you arrive in Thailand, as long as you have access to sufficient funds before you depart on your tour.
• International payments are best done by bank transfer, and the cheapest, fastest, and easiest way is with TransferWise. Credit/debit cards can be used through TransferWise or other online wire transfer services. For people inside Thailand, we accept payment via cash (Thai baht, US dollars, British pounds, and euros), ATM transfer, and counter deposit to Siam Commercial Bank.
• If local taxes and/or fuel prices increase significantly, we reserve the right to add comparable surcharges.