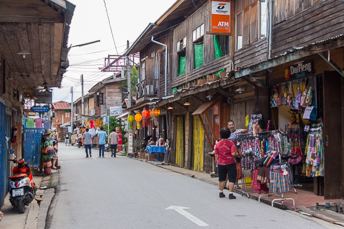 Duration
10 Days
Start/Finish
Khon Kaen to Ubon Ratchathani
Highlights
• Walking amidst the bizarrely eroded rocks at Suan Hin Pha Ngam and Phu Pha Thoep
• Historic wooden shop houses in Chiang Khan
• Mountain scenery along the Mekong River
• The immense, bizarre sculptures at Sala Kaew Ku
• Wandering the cliffside walkways at Wat Phu Tok
• Historic Isan-style Buddhist temples
• Wat Phra That Phanom, the holiest temple in Isan
• Waterfalls, ancient rock paintings, and stunning views at Pha Taem National Park
Description
We begin in mountainous Loei province, including a visit to the incredible rock garden of Suan Hin Pha Ngam, before joining the Mekong at the historic town of Chiang Khan. The river's scenery is beautiful right from the start and the views from Wat Pa Tak Sua are unforgettable. The interesting border town of Nong Khai is home to the wonderfully bizarre Sala Kaew Ku sculpture park; one of Thailand's most interesting sights. We'll explore the cliffside walkways at Wat Phu Tok and then either tour a village to experience traditional rural life first-hand or trek into the Phu Wua Wildlife Reserve where we might meet elephants. We continue along the Mekong past many historic temples that are sure to wow art lovers; a house where Ho Chi Minh once lived; Phra That Phanom, one of the holiest and most beautiful stupas in Thailand; and Phu Pha Thoep National Park with bizarre eroded rock formations. When the Mekong's waters are low, we will visit Sam Pan Boke, a mind-boggling stretch of river where the rocky shore is pocked with thousands of large holes – and in the rainy season we'll visit some amazing waterfalls instead. Pha Taem has both 3000-year old rock paintings and jaw-dropping views over the Mekong. At Khong Jiam, home of the Two-Colour River, the Mekong runs east into Laos and we turn west to Ubon Ratchathani, a city with some fascinating temples and enormous wax statues.
Add-Ons
Make the most of your trip with our special add-on activities before, during, or after your tour.
Day 1 – Suan Hin Pha Ngam
Our first day takes us through lovely Loei province up to where the Mekong River flows out of Laos. We begin in Khon Kaen at Wat Chai Si Buddhist temple, where the ubosot is covered with bizarre historic Isan-style paintings, and then stop for photos of dramatic Pha Nok Khao cliff before rolling into Suan Hin Pha Ngam ("Beautiful Rock Garden"), also known as Thailand's Kunming due to its resemblance to Kunming Stone Forest in China. After a short trek through the heart of this surreal landscape we'll continue north, stopping to see monkeys, a cooperative cotton weaving group, and masks from the interesting Phi Khon Nam festival. We'll then meet the Mekong River at the historic and beautifully situated town of Chiang Khan.
Overnight in Chiang Khan
Day 2 – Chiang Khan & Sangkhom
In the cool season, early risers have the opportunity to drive up Phu Tok mountain to see the river valley below blanketed in fog at sunrise. After breakfast we'll stroll Chiang Khan's historic streets, still full of traditional timber shop houses, and take a gander at the locally famous Kaeng Khut Khu rapids before starting to trace the Mekong River heading east. We'll visit an unusual shrine and a Lao herb market before taking a boat ride at a particularly scenic spot on the Mekong River full of small rocky islets. After a visit to lovely Namtok Than Thip waterfall we'll reach the relaxing town of Sangkhom.
Overnight in Sangkhom
Day 3 – Nong Khai
We will begin the day taking in the awesome mountain-top views of the Mekong Valley from Wat Pa Tak Suea, perched on a cliff high above Sangkhom. And in the rainy season or beginning of the cool season, we'll also stop to see another lovely waterfall. We'll then stop in a village to see people hand-rolling spring roll wrappers and visit a topiary park before rolling into the low-key city of Nong Khai where we'll stroll the Indojin Market, filled with bric-a-brac from Thailand, China, and other countries. After lunch we'll explore the city by bike (or you can choose to go by van) visiting several unique sites, the highlight of which for most people is Wat Pho Chai Buddhist temple with its incredible murals.
Overnight in Nong Khai
Day 4 – Sala Kaew Ku & Bueng Kan
Sala Kaew Ku, the day's first stop, is a wonderfully bizarre religious center filled with immense and strange concrete sculptures blending Buddhist and Hindu iconography. We'll then continue down along the Mekong River, often on small country roads, visiting a pottery village and a temple honoring naga (magical serpents). Finally, the red boulders at Ban Ahong are a very scenic stop shortly before we arrive in Bueng Kan city.
Overnight in Bueng Kan
Day 5 – Wat Phu Tok & Ban Kham Pia
We'll begin the day in a village seeing how thatch roofs are made before climbing and exploring the labyrinth of walkways at Wat Phu Tok, a temple built on a mountain plateau with wooden platforms leading along the cliffs. Then, based on your preference, we'll either trek up to a soaring clifftop viewpoint in the Phu Wua Wildlife Reserve or spend a few hours strolling around a typical agricultural village seeing local life up close – or do a little of both. We'll arrive in Bung Khla, our overnight stop, early enough to fully enjoy the incredible views of the mountain-lined Mekong River here.
Overnight in Bung Khla
Day 6 – Tha Uthen & Nakhon Phanom
Heading south, we'll stop to see some amazing wood carving and dinosaur footprints before taking a break to enjoy lunch with the peaceful scenery of the Two-Coloured River, where the greenish Songkhram River joins the muddy brown Mekong. Further downriver we'll see the soaring 66-meter (217 feet) tall Phra That Tha Uthen stupa and ogle the impressive variety of local foods for sale in the Tha Uthen market. Sticking to country roads hugging the Mekong, we'll see hats made from bamboo husks and walk over a rickety bamboo bridge to a small island (accessible at the end of the dry season only). It's then down to Nakhon Phanom, a very laid-back capital city with beautiful mountain views. There we'll visit a fabric weaving group, go to the local museum to see examples of the "fire boats" that grace the river at the end of the Buddhist lent, and enjoy some marvelous modern temple murals.
Overnight in Nakhon Phanom
Day 7 – That Phanom
Probably the highlight of time spent in Nakhon Phanom is watching the sun rise behind the mountains across the Mekong River in Laos, which you can choose to watch from your hotel room or along the riverside promenade. On the way down to little That Phanom, home to the holiest temple in Isan, we'll stop to visit a replica of the house Ho Chi Minh lived in during his time here and a basket weaving village, where, if you wish, you can get advice from a local spirit medium. In That Phanom town we'll see a Buddhist temple with historic murals and stroll down a well-preserved block of French-Indochina style buildings to a large symbolic arch, similar to Patuxai in Vientiane, before arriving at the famous Phra That Phanom, a gleaming white 53-meter (174 feet) stupa, topped with a 16-kilogram (35 pounds) jewel-encrusted gold parasol.
Overnight in That Phanom
Day 8 – Mukdahan & Khemmarat
As we follow the river south to Mukdahan, we'll make a quick stop at Kaeng Kabao, a dry-season-only stretch of rapids and islets on the Mekong River before visiting the contemporary Our Lady of the Martyrs of Thailand church, built to commemorate seven Thai Catholics executed in 1940 by the police for refusing to renounce their faith. Then we'll sample a variety of traditional snacks made on-site by a women's cooperative. Next up are two old temples with well-preserved historic buildings that will delight even casual art lovers and we'll say hello to some local monkeys in a small patch of forest. In Mukdahan city, we'll climb Ho Kaeo Mukdahan, a 65 meter-tall (213 foot) tower built to mark the king's 50th year on the throne. It has a good museum and great views. Phu Pha Thoep National Park's main attraction is a field full of mushroom-shaped rock pillars. We'll stop for the night in Khemmarat; a small sleepy town, that is the only urban center around these parts.
Overnight in Khemmarat
Day 9 – Pha Taem National Park & Khong Jiam
Today is a day of scenic beauty featuring two of the loveliest natural wonders on the whole of the Mekong River. Though exactly what we visit depends on the season. But no matter when we travel, there will be some stunning things to see. We'll first take in a lovely valley view at Song Khon and then ride a boat down the river to explore the incredible Sam Pan Boke, a mind-boggling stretch of the Mekong River where the rocky shore is pocked with thousands of large holes. Tell most Thais you are visiting here and they will turn jealous. In the rainy season, and the months following it, we will swap Sam Pan Boke with some spectacular waterfalls, most notably Nam Tok Saeng Chan, which passes through a hole in a cliff. At the southern end of Pha Taem National Park we'll visit a long, dramatic cliff with brilliant river views from above and several sets of 3000-year-old rock paintings below, as well as some bizarre rock formations. Beyond the park we'll visit a beautiful and interesting cave shrine with its own rainy-season waterfall. Finally, we'll take in another wonderful view of the Mekong before arriving at the little town of Khong Jiam, perched at another spot known as the Two-Colour River because of the merger of the differently shaded Mekong and Mun rivers.
Overnight in Khong Jiam
Day 10 – Two-Colour River and Ubon Ratchathani
In the morning we'll hop in a boat to go see the confluence of the Two-Colour River up close and take in the lovely surrounding scenery. Then we'll say good bye to the Mekong and head west, stopping at a roadside workshop where gongs, drums, and bells are made by hand. In Ubon Ratchathani city we'll see some historic paintings and architecture at Wat Tung Sri Muang temple, visit a small museum of Buddhist art, sample some locally made snacks, and try to see some of the giant carved candles the city is famous for.
If our itinerary doesn't fit your exact needs and desires, please let us know. With advance notice we can usually modify things.
Prices valid until March 2023.
       

Hotel

        

Level
Number of Persons
Price per person, two per room (baht)
1
2
3
4
5
6
7
8
9+
Budget
112,450
56,850
40,550
30,750
26,350
22,350
20,450
18,150
By Request
Deluxe
123,350
62,600
47,850
36,350
32,950
27,900
26,700
24,000
Homestay
109,900
57,250
40,200
31,300
26,450
22,950
20,700
18,800
<![if supportMisalignedColumns]> <![endif]>
Price Includes
All sightseeing and activities as specified in the itinerary with English-speaking local guides, entrance fees, transportation in an air-conditioned vehicle, hotel transfers, accommodation, breakfast at deluxe-level accommodation and village homestays, dinner at village homestays, snacks and cold water in the vehicle, accident insurance, taxes, and pre-departure travel consultation.
Price Does Not Include
Transportation to Khon Kaen or from Ubon Ratchathani, meals and drinks other than what is specified above, travel and medical insurance, personal expenses (such as laundry, souvenirs, snacks, etc.), tips/gratuities, visa fees (Thai visas are free or not required for most international visitors.), and any additional expenses incurred due to airline schedule changes, natural disasters, political actions, or other factors beyond our control.
Booking/Cancellation Policies
• For tours longer than one day, a non-refundable deposit of 30% is required as soon as possible after making your reservation.
• The full payment is due before the tour begins. This can be done after you arrive in Thailand, as long as you have access to sufficient funds before you depart on your tour.
• International payments are best done by bank transfer, and the cheapest, fastest, and easiest way is with TransferWise. Credit/debit cards can be used through TransferWise or other online wire transfer services. For people inside Thailand, we accept payment via cash (Thai baht, US dollars, British pounds, and euros), ATM transfer, and counter deposit to Siam Commercial Bank.
• If local taxes and/or fuel prices increase significantly, we reserve the right to add comparable surcharges.
This is the accommodation that we normally use for this tour. Of course, if any place is fully booked during your travel dates, we will have to substitute a similar property. If this happens, we will let you know right away.
Click here to see a general description of our accommodation levels.
Day 1 – Chiang Khan
Budget: Baan Supichaya
Deluxe: Huean Yai Bab Pa -or- Chiang Khan Hill Resort*
Homestay: Ban Ton La village homestay
Day 2 – Sangkhom
Budget: Sangkhom River View
Deluxe: Sangkhom River View
Homestay: Ban Pak Som-Ban Lamphu Pan village homestay
Day 3 – Nong Khai
Budget: Mut Mee Garden Guesthouse
Deluxe: Mut Mee Garden Guesthouse -or- Pimali*
Homestay: Ban Prao village homestay
Day 4 – Bueng Kan
Budget: Rachawadee Hotel
Deluxe: The One Hotel
Homestay: Ban Ahong village homestay
Day 5 – Bung Khla
Budget: Mon Prasit Resort
Deluxe: Mon Prasit Resort
Homestay: Ban Kham Pia village homestay
Day 6 – Nakhon Phanom
Budget: P Hometel
Deluxe: The River Hotel
Homestay: Thai Sak Homestay (Ban At-Samat village)
Day 7 – That Phanom
Budget: Baan Ing Oon Guesthouse
Deluxe: Riverview Hotel
Homestay: Baan Ing Oon Guesthouse
Day 8 – Khemmarat
Budget: Lae Khong River Resort
Deluxe: Lae Khong River Resort
Homestay: Ban Nong Wilai village homestay
Day 9 – Khong Jiam
Budget: Banpak Mongkhon -or- Baansuan Rimnam Resort*
Deluxe: Thosang Khong Jiam Resort
Homestay: Banpak Mongkhon -or- Baansuan Rimnam Resort*
*These hotels offer very different styles. We let you choose the one that's right for you.