Khok Pia Village Homestay Tour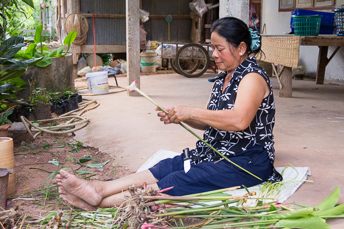 Duration
2 Half-Days
Start/Finish
Khon Kaen to Khon Kaen
Highlights
• Meeting the locals
• Having an uncompromised authentic cultural experience
• Helping to cook your own dinner
• Donating to the monks on their morning alms
Description
Our homestay tour is a fully authentic experience with no concessions made for tourists other than having Nina, an English-speaking resident of the village, spend the day with you. Ban Khok Pia is a typical rural Isan village about 20 kilometers (13 miles) outside Khon Kaen city. Most of its 180 residents live in wooden houses, grow rice in the rainy season, and supplement their income the rest of the year by growing vegetables, flowers, and sugar cane or taking seasonal work outside the village. In many ways things haven't changed much in the past 20-plus years: life generally remains slow, simple, and interconnected and it's not an exaggeration to say that everyone knows everyone in the village. During your visit you will eat and sleep with a local family (read more about homestays) and spend your time meeting locals and seeing typical activities throughout the village. This tour is also available as a daytrip.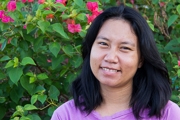 A Message From Your Host
Hello. I'm Nina. Welcome to Khok Pia village. I am proud to present this wonderful place. My village has good culture, nice people, and great friendship and I want you all to enjoy the wonderful value of life that I have here in my village. I have had foreigner friends at the university and so I know what the interesting things to show people are. Also I want to give the value of life back to my hometown. Making tours here will help me improve my hometown through income and also make people not so shy around foreigners. And this will give them the chance to improve themselves in the future. Making this project is my dream come true! Thank you for your support.
Add-Ons
Make the most of your trip with our special add-on activities before, during, or after your tour.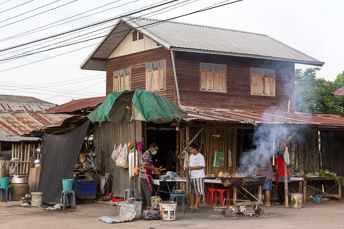 Day 1 – Arrive Khok Pia Village
Nina, your host, will meet you in Khon Kaen city at midday. You will hit a local fresh market to buy ingredients for dinner and then head out of town to her village. There is no set itinerary for your time in the village, you will just casually walk around with Nina meeting her neighbors and seeing local life such as weaving hammocks and sitting mats, making charcoal, fishing, growing vegetables and herbs, raising frogs, doing field work, and making merit at the temple. In the evening you can help cook dinner. The main meals will be typical Isan dishes, but when you are at the market you can make a specific request. Depending on the season, you may also be able to collect various plants, leaves, and flowers around the village to use in your meal.
Overnight in Khok Pia
Day 2 – Depart Khok Pia Village
Isan villages get an early start on the day, and you'll be up for a lovely sunrise. Soon after, you will join the locals to donate sticky rice to the monks as they make their morning alms round through the village. Then you'll walk through the village to see various morning activities and stop at one of the village's food shops to get your breakfast. If it's a weekday, you can go to the local primary school to see the formal morning assembly. At around 10am a driver will take you back to Khon Kaen city.
If our itinerary doesn't fit your exact needs and desires, please let us know. With advance notice we can usually modify things.
Prices valid until March 2023.
| | | | | | | | | | |
| --- | --- | --- | --- | --- | --- | --- | --- | --- | --- |
| Group Size | 1 | 2 | 3 | 4 | 5 | 6 | 7 | 8 | 9+ |
| Price Per Person | 4,950 | 2,600 | 2,050 | 1,850 | 1,650 | 1,500 | 1,400 | 1,350 | Ask |
Price Includes
All sightseeing and activities as specified in the itinerary with an English-speaking local host, transportation to and from the village in an air-conditioned vehicle, accommodation, dinner and breakfast, accident insurance, taxes, and pre-departure travel consultation.
Price Does Not Include
Transportation to Khon Kaen, meals and drinks other than what is specified above, travel and medical insurance, personal expenses (such as laundry, souvenirs, snacks, etc.), tips/gratuities, visa fees (Thai visas are free or not required for most international visitors.), and any additional expenses incurred due to airline schedule changes, natural disasters, political actions, or other factors beyond our control.
Booking/Cancellation Policies
• For tours longer than one day, a non-refundable deposit of 30% is required as soon as possible after making your reservation.
• The full payment is due before the tour begins. This can be done after you arrive in Thailand, as long as you have access to sufficient funds before you depart on your tour.
• International payments are best done by bank transfer, and the cheapest, fastest, and easiest way is with TransferWise. Credit/debit cards can be used through TransferWise or other online wire transfer services. For people inside Thailand, we accept payment via cash (Thai baht, US dollars, British pounds, and euros), ATM transfer, and counter deposit to Siam Commercial Bank.
• If local taxes and/or fuel prices increase significantly, we reserve the right to add comparable surcharges.
You will be staying in a local home. It will be simple but clean with a mattress under a mosquito net, a fan, and an indoor bathroom. There will probably be no wi-fi at the house where you sleep, but you will be able to get online elsewhere in the village during your stay.