Isan Trails North Express Tour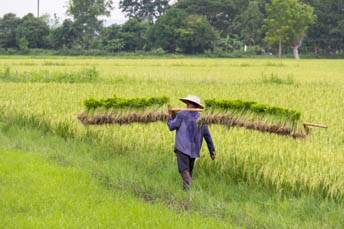 Duration
3 Days
Start/Finish
Bangkok to Khon Kaen
Highlights
• Khao Yai night safari
• Seeing handbags made from old wrappers
• Buddha making factories
• Dan Kwian pottery village
• Khmer temple ruins of Phimai
• Sai Ngam, Thailand's largest banyan tree
• Seeing silk weaving
Description
This tour takes you out of Bangkok and up to Khon Kaen, at the heart of Isan. We begin in the Khao Yai area of Khorat province with markets, handicraft villages, and some natural attractions, including a night safari through UNESCO World Heritage-listed Khao Yai National Park, where there's a good chance of seeing elephants. After seeing the very holy Thao Suranari shrine and the old city walls and moat in Khorat city, we'll explore the incredible Prasat Phimai Khmer ruin, walk through Thailand's largest banyan tree, visit a silk weaving village, and see a historic Isan-style Buddhist temple before finishing in the modern city of Khon Kaen.
Add-Ons
Make the most of your trip with our special add-on activities before, during, or after your tour.
Day 1 – Khao Yai
After leaving Bangkok, departing early to beat the worst of the morning rush hour, we'll sample some exotic flavors in a giant fruit market and explore a small but beautiful cave with a natural skylight and climb up above it to see a giant boulder balanced precariously on the edge of a cliff. Then we'll check out the vivid blue waters of a natural spring, where you can swim if you want. In the afternoon we'll head to Khao Yai National Park, a UNESCO World Heritage site and one of the biggest and best national parks in Thailand, for some easy walking and waterfall-viewing. Then we'll join the park's night safari where there's a good chance of encountering elephants, plus many other smaller critters including civet, marten, porcupine, and slow loris.
Overnight in Khao Yai
Day 2 – Wang Nam Khiao & Dan Kwian
Today we take a scenic rural drive following the edge of Khao Yai's long mountain range. There are many small farms along this route so we can stop and sample local products (grapes, cashews, dragon fruits, flowers, etc.) as you like. Just before leaving the mountains behind, we'll stop to see various foods collected in the forest (like mushrooms, bamboo, and insects) on sale in a jungle market. Then we'll visit some families who make brooms from bamboo leaves and also handbags using old wrappers from coffee, laundry detergent, and other products – a brilliant exercise in recycling. After winding through a wide swath of rice paddies we'll go to a workshop that forges brass Buddhas and then visit Dan Kwian, which has been producing pottery for hundreds of years. Some original rough, rust colored products are still made, along with a great variety of vibrant modern designs. We'll visit one of the seemingly timeless workshops with its giant wood-fired kilns and hit a few stores to see the finished products before arriving in Nakhon Ratchasima (aka Khorat). Though it's a bustling modern city, the moat and city fortifications are reminders of its long history and for the day's final stop we will join devotees at the very holy Thao Suranari Memorial. It was built in honor of a woman who, according to legend, devised and led a prisoner rebellion against the invading Lao army (One version says that the women seduced the soldiers and then the men launched a surprise attack.) in 1826, thus saving the city. Performers do a local folk dance throughout the day to thank "Grandma Mo" for wishes people think she has answered.
Overnight in Khorat
Day 3 – Phimai & Khon Kaen
Built beginning in the late 10th century AD, the impressive and beautifully restored Khmer temple at Phimai, which is centered on a 28-meter (62 feet) tall prang and features many excellent carvings, predates Angkor Wat; and may have even been its inspiration. We'll also take a quick look at what's left of the city gate and see Sai Ngam, Thailand's largest banyan tree, covering an island just outside of town. Then, we'll visit a village to see how silk worms are raised, silk thread is made, and silk fabric is woven. If you want, you can sit at a loom and try it yourself. Then we'll stop to admire a historic little temple building featuring original Isan-style murals, which are now very rare, before arriving in the modern city of Khon Kaen.
If our itinerary doesn't fit your exact needs and desires, please let us know. With advance notice we can usually modify things.
Prices valid until March 2023.
Hotel

Level
Number of Persons
Price per person, two per room (baht)
1
2
3
4
5
6
7
8
9+
Budget
40,450
20,500
14,500
11,050
9,400
7,950
7,250
6,450
By Request
Deluxe
48,100
24,350
19,450
14,750
13,800
11,650
11,400
10,100
Homestay

We hope to add the homestay option in the future.
**For deluxe level, this is the weekday, non-holiday, high-season price. From April to October, the price drops 2000B per room. But, in both high and low season, add 1000B per room per night for weekends and holidays. New Year holiday prices will be much higher. The budget-level price is the same year-round.
Price Includes
All sightseeing and activities as specified in the itinerary with English-speaking local guides, entrance fees, transportation in an air-conditioned vehicle, hotel transfers, accommodation, breakfast at deluxe-level accommodation and village homestays, dinner at village homestays, snacks and cold water in the vehicle, accident insurance, taxes, and pre-departure travel consultation.
Price Does Not Include
Return transportation to Bangkok, meals and drinks other than what is specified above, travel and medical insurance, personal expenses (such as laundry, souvenirs, snacks, etc.), tips/gratuities, visa fees (Thai visas are free or not required for most international visitors.), and any additional expenses incurred due to airline schedule changes, natural disasters, political actions, or other factors beyond our control.
Booking/Cancellation Policies
• For tours longer than one day, a non-refundable deposit of 30% is required as soon as possible after making your reservation.
• The full payment is due before the tour begins. This can be done after you arrive in Thailand, as long as you have access to sufficient funds before you depart on your tour.
• International payments are best done by bank transfer, and the cheapest, fastest, and easiest way is with TransferWise. Credit/debit cards can be used through TransferWise or other online wire transfer services. For people inside Thailand, we accept payment via cash (Thai baht, US dollars, British pounds, and euros), ATM transfer, and counter deposit to Siam Commercial Bank.
• If local taxes and/or fuel prices increase significantly, we reserve the right to add comparable surcharges.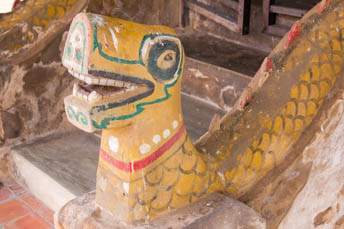 This is the accommodation that we normally use for this tour. Of course, if any place is fully booked during your travel dates, we will have to substitute a similar property. If this happens, we will let you know right away.
Click here to see a general description of our accommodation levels.
Day 1 – Khao Yai
Budget: Sabaidee Khao Yai Guesthouse
Deluxe: Hotel des Artists
Homestay: Sabaidee Khao Yai Guesthouse
Day 2 – Khorat
Budget: Romyen Garden Place
Deluxe: Kantary Hotel
Homestay: Romyen Garden Place