Elephant Encounter Plus Tour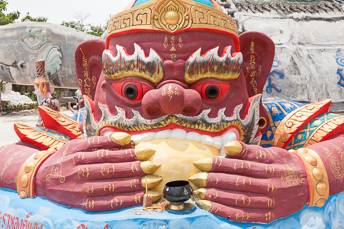 Duration
4 Days
Start/Finish
Khon Kaen to Khon Kaen
Highlights
• The ancient Khmer ruins of Prasat Puay Noi
• Rare, historic Isan-style temple paintings
• A modern mosaic masterpiece
• Seeing silk weaving and silk worms
• Getting up close and personal with elephants
• Meeting wild-but-tame monkeys
• The incredible sculpture at Wat Pa Non Sawan
• Seeing pottery made using the ancient paddle and anvil method
Description
Ban Ta Klang is home to the Kui (aka Suai) people, Thailand's legendary elephant handlers, and about 150 elephants live side-by-side with them at their homes in the village. We'll spend a full day with the elephants, mostly out walking with and watching them in patches of forest and at watering holes, and they are off chains the entire time. We even get to help bathe the elephants in the Mun River. Most people consider engaging with elephants in natural surroundings such as this to be far better than watching them perform circus acts. There will be one elephant per guest, though solo travelers will get two so you can see them interact socially.
Although the elephants are the focus of this tour, we make many other stops before and after your elephant encounter including Khmer ruins, historic temples, craft villages, a forest full of semi-tame monkeys, and a bizarre sculpture park. We also pass through an important silk weaving region and we'll stop to visit a weaving village that raises its own silk worms. This extended version of our regular Elephant Encounter tour has a full extra day of these cultural activities and also extra elephant time since you will stay two nights in the village.
About Elephant Tourism
Elephant tourism is rightly controversial, though we worked with the renowned Save Elephant Foundation to ensure that our tours are not only responsible, but actually beneficial to the elephants involved. Click here to read how.
Add-Ons
Make the most of your trip with our special add-on activities before, during, or after your tour.
Day 1 – Khon Kaen & Buriram
We begin by visiting Prasat Puay Noi, one of the largest and most intact Khmer ruins in upper Isan, and also an ancient quarry where it is believed the sandstone to build it was cut. The quarry also has many natural potholes carved deep into the bedrock, which makes it an interesting and beautiful place. We'll then visit a temple with interesting and well-preserved historic Isan-style mural paintings on the outside, and another temple where one building has been covered in stunning modern glass mosaic. We then stop at a silk weaving village to see not only the complicated process behind dyeing and weaving Isan's famous mut-mee silk, but also how the silk worms are raised. We'll make a quick photo stop at a giant Ganesh statue before arriving in Ban Ta Klang Elephant Village.
Overnight in Ban Ta Klang Elephant Village
Day 2 – Ban Ta Klang Elephant Village
We will spend all day today getting up close and personal with elephants. We begin by walking with the elephants to the Mun River where we can jump in with the elephants to help the mahouts bathe them. We'll then visit the elephant museum and holy pakam shrine before taking the elephants to a large enclosure and let them roam free next to a small swamp where they can, and usually do, go play and splash around with each other. Next we'll tour an elephant poo paper making facility (Yes, you read that right!) and the elephant cemetery before taking a forest walk with the elephants. We'll say good bye to our pachyderm friends by feeding them some fresh fruits or vegetables. When the day's scheduled activities are over, we can still walk around the area and see the elephants at their handlers' houses.
Overnight in Ban Ta Klang Elephant Village
Day 3 – Roi Et
Our first stop of the day is a temple where one of the buildings is creatively decorated with old bottles. Then we'll stroll around the ancient Ku Phra Kona Khmer temple ruin, which has been converted into a modern Buddhist shrine and hosts a troop of semi-tame monkeys who eagerly await handouts. On the way to a small village temple with a pair of restored historic buildings – an adorable little ubosot and a wooden Buddhist scripture library (haw-dtrai), built in the middle of a pond to keep termites at bay – we'll stop briefly to see a joss stick making village and, if it's not the rainy season, learn how salt is extracted from dirt. Then it's time to be astonished and bewildered at Wat Pa Non Sawan, one of the most interesting and unusual Buddhist temples in Thailand. The temple's multitude of brightly colored sculptures range from dragons to polar bears to gruesome scenes of the Buddhist version of Hell to a who's who of celestial deities. Most were built to impart messages to temple-goers while others are simply meant to be fun and make people feel welcome. We'll also see clay stoves being made in the adjacent village. On the outskirts of Roi Et we'll stop to see a batik workshop and we'll finish the day at Bueng Phlan Chai, Roi Et's relaxing city center park.
Overnight in Roi Et
Day 4 – Roi Et & Maha Sarakham
After seeing more historic Isan-style temple murals we'll gaze up at the 59.2-meter (194 feet) tall Phra Phuttha Ratana Mongkon Mahamuni, a standing Buddha image that is one of the world's tallest statues. Leaving Roi Et we'll stop at a village that makes clay water jugs and other pottery without a potter's wheel, using the ancient paddle and anvil method instead. Then we visit a good cultural museum, a workshop casting Buddha images and other brass statues using the ancient lost wax method (if we're lucky the molten metal will be poured during our stop), and meet more friendly monkeys. The tour ends in a village where most residents weave reed mats (suea), which are used across the nation when people need to sit on the ground.
If our itinerary doesn't fit your exact needs and desires, please let us know. With advance notice we can usually modify things.
Prices valid until March 2023.
       

Hotel

        

Level
Number of Persons
Price per person, two per room (baht)
1
2
3
4
5
6
7
8
9+
Budget
44,050
22,250
15,850
12,250
10,650
9,200
8,350
7,550
By Request
Deluxe

       

Deluxe level accommodation is not available for this tour.
Homestay
44,150
22,700
15,950
12,550
10,800
9,450
8,500
7,750
<![if supportMisalignedColumns]> <![endif]>
Price Includes
All sightseeing and activities as specified in the itinerary with English-speaking local guides, entrance fees, transportation in an air-conditioned vehicle, hotel transfers, accommodation, breakfast and dinner at village homestays, lunch on day 2, snacks and cold water in the vehicle, accident insurance, taxes, and pre-departure travel consultation.
Price Does Not Include
Transportation to Khon Kaen, meals and drinks other than what is specified above, travel and medical insurance, personal expenses (such as laundry, souvenirs, snacks, etc.), tips/gratuities, visa fees (Thai visas are free or not required for most international visitors.), and any additional expenses incurred due to airline schedule changes, natural disasters, political actions, or other factors beyond our control.
Booking/Cancellation Policies
• For tours longer than one day, a non-refundable deposit of 30% is required as soon as possible after making your reservation.
• The full payment is due before the tour begins. This can be done after you arrive in Thailand, as long as you have access to sufficient funds before you depart on your tour.
• International payments are best done by bank transfer, and the cheapest, fastest, and easiest way is with TransferWise. Credit/debit cards can be used through TransferWise or other online wire transfer services. For people inside Thailand, we accept payment via cash (Thai baht, US dollars, British pounds, and euros), ATM transfer, and counter deposit to Siam Commercial Bank.
• If local taxes and/or fuel prices increase significantly, we reserve the right to add comparable surcharges.
This is the accommodation that we normally use for this tour. Of course, if any place is fully booked during your travel dates, we will have to substitute a similar property. If this happens, we will let you know right away.
Click here to see a general description of our accommodation levels.
Days 1 and 2 – Ban Ta Klang
Budget: Baan Chang Resort
Homestay: Ban Nong Bua village homestay
Day 3 – Roi Et
Budget: Capital Hotel
Homestay: Mueang Mai Guesthouse